Portraits
Airi Kulpa and her daughter Katharine. Airi lived in Mexico City in the 1940's and did some acting. The portrait was based on a promotional photo from that time.
A pair of display pieces done for an admirer of exotic beauties. On the right is Boa, a popular singer from SE Asia
To see a short video of the Boa portrait's transformation, click on the link below:
Speaking of popular singers... Elvis Presley on Zippo lighters. I got an email from France that I'll never forget. It said "I am Elvis's fan and zippo..."
Hollow Horn Bear and Kicks Iron
Lisa Guy (left) and jazz guitaritst D'jango Rheinhart (center) Lillian on a Jim Whitehead pendant knife (right).
A guitar pick with John Lennon. The bill is just to show scale and not to make any statement... Custom magnifying glass
A younger me with a young John Lennon. Click on the link below for a fun little video which shows the transformation from model to finished piece:
The portrait on the left was done on a small Swiss Army knife. The Wishram bride display is a 4" bark section of a woolly mammoth tusk.
Here's another short video of the maiden's creation:
Below, a trio of native Americans.
Below is a portrait of the poet and guitarist H.Home. I've included "work in progress" images in addition to the finished piece. If you enjoy great poetry be sure to check out the tribute poem on the contact page.
...And finally the finished piece: This was done on a 3 inch fossil ivory panel. Though the picture here lacks some of the darker contrast of the original work, I hope the effect is OK. Im not sure you can see, but I scaled the strings of the guitar to reflect the heavier to the lighter gauge. I also was able to put the 1-10 numbers on the volume knob. And if you need to know, the truss rod cover reads "ES 175CC", Gibson's Charlie Christian model.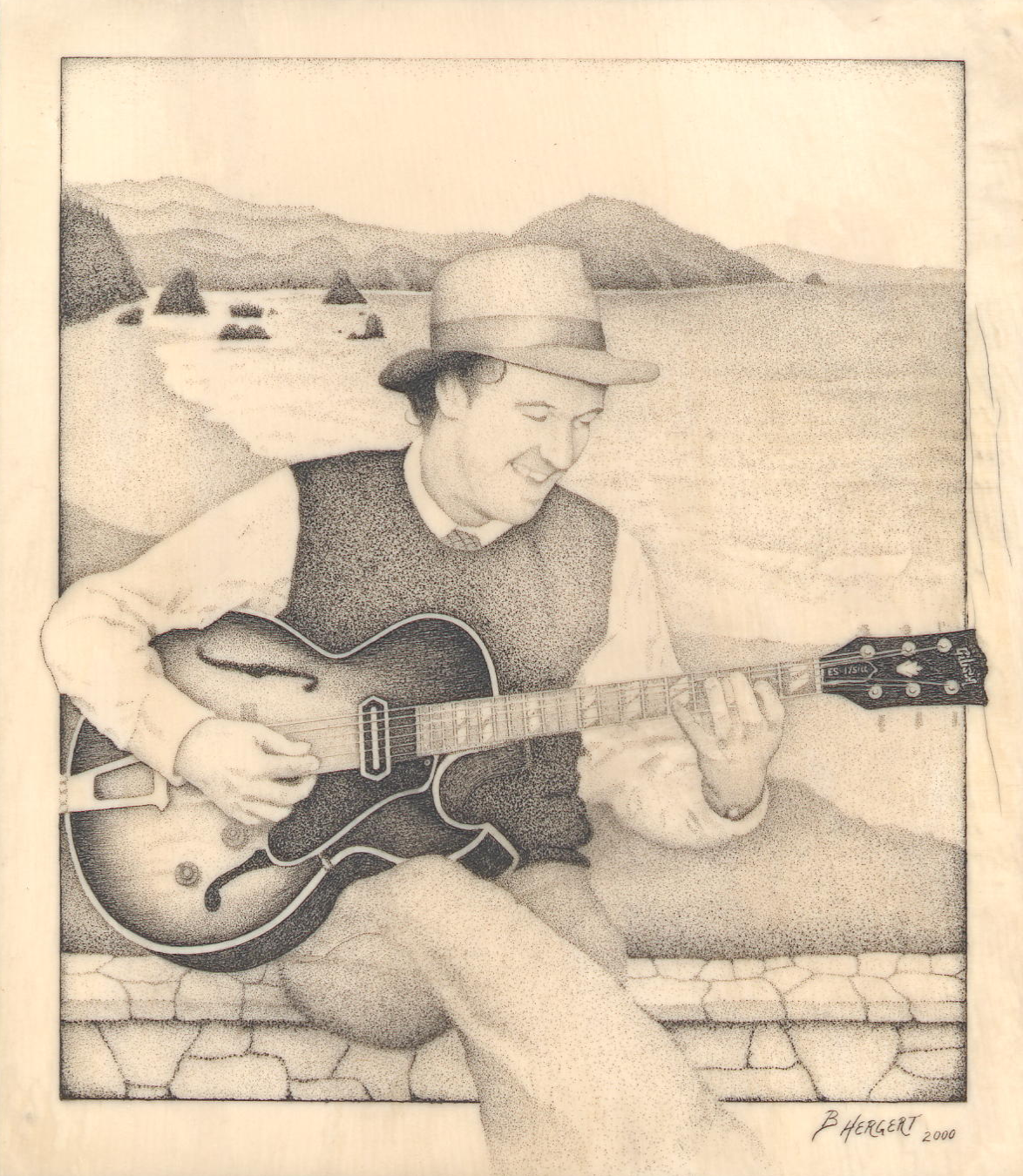 Homepage | Knives | Portraits | Guitars | Guitar Stuff | Cuesticks1 | Cuesticks 2 | Razors | Assorted 1 | Assorted 2 | Assorted 3 | Drawings | Mixed Bag | Pricing | Contact